I'm a big fan of the U.S. version of the Office. At one time, the show was probably the funniest comedy on television, and it's still among my favorites. But the very special combination of Jim and Pam's wedding
plus
her pregnancy (not to mention a different actress playing Pam's mother) raises a troubling question. Has the Office jumped the shark?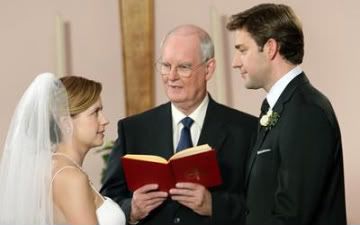 Some say I throw around that phrase too freely. And while there's a grain of truth to that charge, it also reflects a disagreement about what jumping the shark entails. I don't believe a show must experience an extended period of decline before jumping the shark. For me, the phrase describes that moment when you know a show has passed its peak and will never be as good again. Heroes jumped the shark with its anti-climactic showdown in the Season 1 finale, which was the best season of that show by far.
Besides, I actually do believe the Office has been slipping for some time. The show has always struggled to come up with enough quality material for hour-long episodes like Jim and Pam's wedding. And the departure of talented writer Michael Schur (aka Ken Tremendous of
Fire Joe Morgan
) to helm Parks & Recreation has only exacerbated the problem. No surprise, therefore, that Parks & Recreation continues to improve in its second season, while the Office falters.
All that said, I have to raise an alternate possibility I haven't seen discussed. It's possible that Jim and Pam's wedding episode was a
deliberate parody
of shark jumping. The big clue to this possibility is Pam's prudish Memaw, who was played by the same uncredited actress who also played Michael's Nana in the episode Dream Team. Another quintessential jump the shark moment is "same guest actor, different role." I can't help thinking the writers slipped this in as a subversive wink to fans like me who might be worried the show was jumping the shark.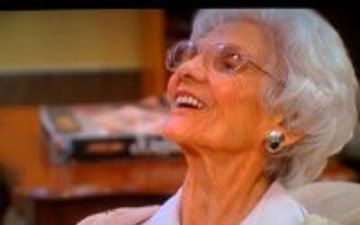 What do you think? As always, you're welcome to post anonymously,
but please identify yourself somehow
, so I can distinguish between anonymous posters. Thanks!