Ever since FOX announced the Cleveland Show, I've wondered why, out of all the characters on Family Guy, they picked Cleveland for a spin-off. Perhaps I'm in the minority, but I never found him remotely funny. I felt like Quagmire or Brian would have made much better choices.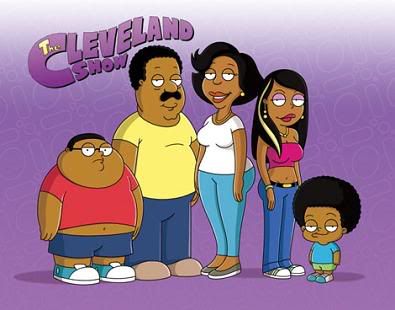 No surprise, therefore, that I found the Cleveland Show similarly unfunny. After watching the pilot, though, I wonder if that's the point. Maybe Seth MacFarlane was being conservative and deliberately chose a weak character to limit the damage to Family Guy. The loss of a Quagmire or Brian could have been crippling to his flagship show. Cleveland, far less so.
The choice of Rich Appel to head the project also seems conservative. Appel has written and produced for some impressive shows, including the Simpsons, Family Guy, and Bernie Mac. But he has a reputation for playing it safe, which is death for a racial comedy. Such humor is inherently high risk, high reward. You can't be afraid to offend, or you get lame jokes -- like a
wigger
boyfriend named Federline Jones -- that offend anyway by virtue of their banality.
If there's a silver lining, it's the way the Cleveland Show has enhanced my appreciation for Family Guy. In a
previous post
, I dismissed the voice work on the latter, arguing it was the referential humor that really elevated Family Guy. In retrospect, I took that quality work for granted. The Cleveland Show has plenty of cutaways, too -- the Parton family gag was one of the few laugh-out-loud moments of the pilot for me. But the show still stinks because the character voices are so weak, particularly for step-brothers Rollo and Cleveland, Jr.
It's like they're not even trying, which raises one last possibility to contemplate. Some of MacFarlane's die-hard fans, the ones who insist his genius can produce no dud, claim that the Cleveland Show is deliberately cliched and awful. It's supposedly a satire of spin-offs, sort of like how the film Adaptation ends with a satire of bad action movie cliches. They claim the secret goal is for the show to be canceled quickly like Joey and other failed spin-offs of the past.
I guess that's possible...but I doubt it. I think MacFarlane got gun shy and sought to minimize his losses. The result was this turd of a show.